Saturday, January 31st, 2009
It's hard to fathom since we've had snow on the ground this week, but Phillies pitchers and catchers report to Clearwater in just two weeks, February 14th. If it seems like the World Series ended just a few minutes ago, think of it this way: the Phillies off-season this year, because of their October run, will be about 15.5 weeks. The NFL regular season runs 17 weeks.
Nonetheless, it's exciting that the bats and cleats will be dusted off in just a couple of weeks.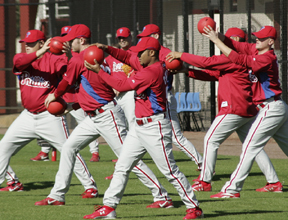 Most of the spots on the Phillies roster are set, but keep an eye on a few former BlueClaws (JA Happ, Kyle Kendrick, Carlos Carrasco) as they battle with Chan-Ho Park for the fifth starter spot in the Phils rotation. Besides Ryan Howard's upcoming arbitration case, it's pretty quiet on the Phillies front; nobody has written any controversial books.
—
Also, former BlueClaws catcher Carlos Ruiz has changed his mind, and will play for Panama in the upcoming World Baseball Classic.
"The reason is that Carlos, as Spring Training was starting to approach, was really focused on bringing another championship to Philadelphia, and he felt like the best way to do that was to be with the Phillies [this spring]," said Ruiz's agent Marc Kligman, who has already notified Phillies GM Ruben Amaro about his client's choice. "But since he made his decision, he had subsequent meetings with officials from Panama, and he reconsidered his decision. He felt it was important to the citizens of Panama that he's ready to play for them."
Ruiz joins former BlueClaws Brad Harman, Joel Naughton, Drew Naylor (Australia), Carlos Carrasco (Venezuela) and Mike Spidale (Italy) on the provisional rosters for the upcoming WBC.