As a follow-up to the previous post, let's look at some former BlueClaws in the mix for jobs around Major League Baseball. Carlos Carrasco (Phillies), Josh Outman (A's) and Matt Maloney (Reds), the cornerstones of the BlueClaws 2006 SAL title team, are all in camp battles for fifth starter jobs with their respective clubs.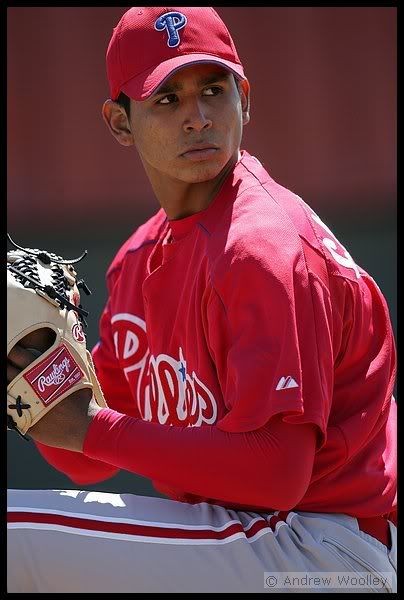 Carrasco, who turns 22 in March, is probably the longest shot on the board in the Phillies battle. JA Happ (BlueClaws '05), Kyle Kendrick ('04-'06) and Chan-Ho Park all have more experience and the Phillies would like Carrasco to get a full season in at Triple-A Lehigh Valley, or at least a half-season to go with the six starts he made there last year.
We spoke with David Murphy of the Philadelphia Daily News last week and he thought Happ was the slight favorite.
—
Here's a great article on Outman, 24, who was acquired by the A's (along with Adrian Cardenas) in the Joe Blanton trade in July.
"His location, for as hard as he throws, is impressive," Curt Young, the A's pitching coach, told the St. Louis Post-Dispatch. "With the stuff he has, he has the potential to be a No. 2 or No. 3 starter in the big leagues."
According to this blog post, courtesy of the San Francisco Chronicle, Outman is in the mix for the fifth starter spot in Oakland along with Gio Gonzalez, a former Phillie, Edgar Gonzalez and Jerome Williams. Gonzalez (7) and Outman (12) are among the best prospects in what Baseball America ranked the 3rd best system in baseball.
Gonzalez is considered the better prospect by most, but Outman did get a big league call-up at the end of last year. Impossible to make the call this early. We'll have to wait for the games to start.
—
Maloney, who just turned 25, went 11-5 in AAA Louisville last year, but had a high ERA of 4.68. This article indicates Maloney is in the mix, but lists him with a whopping 10 other candidates, some of whom have significant big league experience (Micah Owings) or higher prospect status (Homer Bailey). Maloney would be a big surprise if he won the job out of camp. He's probably headed back to Louisville.
Maloney, who threw a complete game shutout to clinch the SAL title in 2006, was traded in 2007 to the Reds for Kyle Lohse.