Monday, August 31st, 2009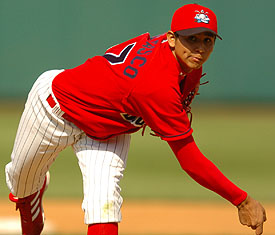 Former BlueClaws pitcher Carlos Carrasco (2006) makes his big league debut on Tuesday night for the Indians when they play Detroit.
Carrasco was traded to the Indians as part of the Cliff Lee deal, and will move to the bigs as the rosters expand for September 1st.
"I'm excited to see him, to get him up here and get him started on this part of his journey," Indians manager Eric Wedge said. "As a young pitcher, I don't want anybody to expect too much, I don't think that's fair to the kid, but I just want him to come up here and get as comfortable as possible, help him relax and have fun."
He will be the 30th former BlueClaws player to appear in a Major League game, and fifth to debut this year (click here).