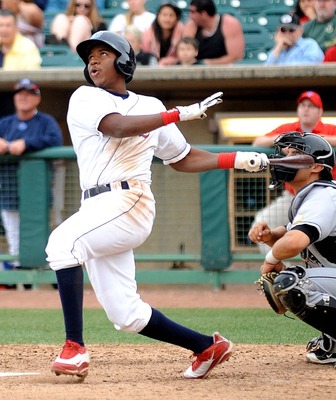 Yesterday, we shared Baseball America's NY-Penn League rankings, with possible
2013 BlueClaws shortstop Roman Quinn ranking 3rd in that league. Today, they released their South Atlantic League rankings, and BlueClaws third baseman Maikel Franco ranked 16th.
Franco, who played much of the year at 19 years of age (he turned 20 on August 26th), hit .280 with 14 HRs and 84 RBIs, but it was a tale of two halves for Franco. Before the All-Star break, he hit just .207-6-27 (OPS of .607) and in the second half, he hit .346-8-57 (OPS of .925).
His 2nd half ranked 4th in the league in average, 1st in RBIs, and 5th in OPS.
Mickey Morandini on Franco's improved 2nd half: "Shorter to the ball. Starting to use all fields a bit more. He realizes he doesn't have to swing for a home run every time and he's done a great job laying off the curveball in the dirt to put himself in more hitters counts."
In the scouting report section (subscriber-only), Augusta manager Lipso Nava said that Franco's game reminded him of Adrian Beltre's.
It's worth noting as well that Franco was ranked as the 2nd best 3rd base prospect, though they were all bunched up (Greenville's Garin Cechhini was 15th on this list while Hagerstown's Matt Skole, who won the league MVP, was 19th).
The BlueClaws had two on this list last year – Jesse Biddle (6) and Domingo Santana (18), who was traded to Houston in August of 2011.