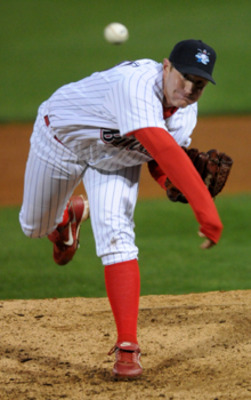 Congratulations to 2009 BlueClaws RHP BJ Rosenberg, who had his contract selected today by the Phillies and will soon make his big league debut.
Rosenberg, a 13th round pick in 2008 from the University of Louisville, was a dynamite reliever with Lakewood in 2009, going 7-2, with a 0.89 ERA and throwing 28.1 straight innings without allowing an earned run from Memorial Day until August 6th when he was promoted straight to Double-A Reading.
Injuries slowed him down in 2010 and he bounced between the bullpen and starting rotation with Reading last year. This year, in 16 games between Reading and Lehigh Valley, he's allowed just five ER in 28.2 innings pitched with 36 strikeouts and eight walks.
Here is a Q&A we did with Rosenberg after the 2009 season. That year, he pitched for Team USA in Pan-Am qualifying. One of his coaches there was Kannapolis manager Ernie Young. This was going on at the same time that Lakewood and Kannapolis were facing off in the first round of the 2009 SAL playoffs.
–
Rosenberg will be the 45th Shore to the Show players and sixth BlueClaws alum to make his big league debut this year, following Freddy Galvis, Lendy Castillo, Adrian Cardenas, Jake Diekman, and and Quintin Berry.
–
UPDATE: Rosenberg was added to this list after making his debut on Saturday. He threw a scoreless 11th inning before allowing a walk-off home run to Adam Jones. Despite the loss, he still called it "the greatest day of my life," and who's to say differently?
"This happened so quick," Rosenberg said. "I was pitching really well, so you never really know. But if you told me at the beginning of the year that I would be here right now, I would have called them a liar. I'm just thankful for the opportunity."
–
We did want to share this tweet from Mark Zaiger, who was an intern with the BlueClaws in 2009 and is now with the Northwest Arkansas Naturals.
Congrats to BJ Rosenberg for making it to the big leagues. He was awesome with the youth when I ran the 2009 @blueclaws kids baseball clinic
Another reason to root for Rosenberg.